Your Trusted Homeowners Insurance Agency
in Delaware
Convenient Offices in Wilmington and Rehoboth Beach, DE
The Williams Insurance Agency, Inc. has been a trusted name in providing homeowner's insurance coverage to Delaware residents since 1948. With offices in Rehoboth Beach, DE, and Wilmington, DE, our proud tradition of service continues today throughout out the Delmarva region. Our agency believes that your home is an investment deserving the protection that only an experienced professional firm can provide. We will take the time to put together the right coverage to protect your most important asset. Let us show you how to get the best home insurance coverage that will fit your budget and your lifestyle.
---
Insurance Coverage for Your Home, Personal Property, and Living Expenses
Your basic home insurance coverage must be adequate to cover the cost of rebuilding or repairing your home if it is damaged or destroyed. Separate buildings on your property, such as garages, sheds, or fences should be covered as well. Coverage for your personal property inside the home such as appliances, computers, furniture, clothing and other personal items is also important in case they are lost, stolen, damaged, or destroyed. In the event your home is damaged to the extent you can't stay there while it is being repaired, having coverage for additional living expenses can be a real help during such a difficult time.
Guaranteed Homeowners Insurance Replacement Cost Coverage
The Williams Insurance Agency, Inc. also offers special coverages such as:
Guaranteed replacement cost coverage
Extended replacement cost coverage
Building code upgrades
Automatic inflation guard coverage
Inland marine and personal umbrella policies
Flood insurance
Earthquake coverage
Protect Your Financial Interests with Home Insurance Liability Coverage
Liability coverage is an important part of your home insurance plan. If someone should be injured on your property, you could be held responsible for the victim's medical bills, lost wages, and sizable legal bills. Such a situation could easily create a huge financial burden if you don't have proper liability coverage in place. Let our agents at the Williams Insurance Agency, Inc. make sure you have adequate liability coverage protection.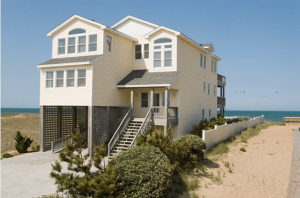 Hurricane & Wind Insurance for Coastal Homeowners in Delaware
If your home or vacation property is located less than five miles from the Atlantic Ocean, it is critical that you obtain appropriate insurance coverage for your home and property. As a coastal homeowner, you face additional perils that you must insure against, including windstorm and hail damage. If you reside near a designated "beach" area or close to tidal waters, our agents are able to provide you with access to special, more affordable, high wind pool or hurricane underwriting to help ensure that your home is adequately secured against potentially devastating financial losses.
Home Insurance Coverage for New Mortgages and Refinancing
If you are applying for a new mortgage or refinancing an existing one, your lender will require proof that you have a certain amount of home insurance coverage. Sometimes the lender will buy a home insurance policy and add the cost of the premium to your monthly mortgage payment to cover their interest in the property. Such coverage usually won't cover many of your personal losses if your home is damaged or destroyed. Having a home insurance policy designed to cover your personal property and other needs is the prudent way to go.
Enjoy the Flexibility of an Independent Insurance Agency
Because the Williams Insurance Agency, Inc. is an independent insurance agency, we have the flexibility to work with many of the nation's leading insurance companies to help you design a customized policy that fits your needs. We can explain the various types of coverage available and can advise you on adequate limits and deductibles for your personal financial situation.
Home Insurance You Can Afford in Wilmington & Rehoboth Beach, DE
For the right home insurance protection that you can afford and the peace of mind you and your family deserve, contact the home insurance experts of the Williams Insurance Agency, Inc. to set up a consultation to discuss your home insurance needs. The Williams Insurance Agency, Inc. has offices located in Rehoboth Beach, DE, and Wilmington, DE. Contact our Rehoboth Beach office at 302-227-2501, or our Wilmington, DE, office at 302-239-5500.
Contact us for a free quote today.
Click Here to See a List of the Personal Insurance Companies We Represent